Fendt in figures
Here you will find the current Fendt data about the tractor sales trend, sales according to markets and the DLG image barometer.
DLG Image Index 2016 Germany
Fendt Image Leader for the 17th time in a row
Fendt claimed first place again in a comparison of agricultural equipment brands. For the 17th time in 20 years, the Fendt brand leads the Image Index of the Deutschen Landwirtschafts-Gesellschaft (DLG, German Agricultural Society), which is eagerly awaited each year.
The DLG surveyed a large group of leading German farmers to find out how they rate the brand strength of different companies in the agricultural industry. In the area of agricultural engineering, the Fendt brand received 60 points, the most among the competitors, and thus fortifies its outstanding image among farmers. Following Fendt, with a six index point margin, the next brands Claas and John Deere (each about 54 points), were head to head in second and third position.
You will find more information on the DLG Image Index 2015 here:
Fendt again tops the 2016 European Dealer Satisfaction Index
According to the Climmar European Network of Dealership Associations, the agricultural machinery manufacturer Fendt is back at the top of the European Dealer Satisfaction Index.
The Dealer Satisfaction Index (DSI) is calculated by way of a survey. European agricultural machinery equipment dealers can rate their main agricultural equipment suppliers over various subject areas. These include the manufacturer's brand image and external representation, sales support for tractors and spare parts as well as service and warranty care.
Fendt wins AGRARTECHNIK Service Award 2017
The prestigious AGRARTECHNIK Service Awards were presented for the 16th time on 13 January at the Landtechnische Unternehmertage conference in Würzburg. This award recognises the best agricultural machinery dealers at state, national and international level. For the first time, the awards for the best "Innovations in Agricultural Machinery" were also presented at this gala evening.
Vehicle registration statistics: 2016: Fendt sells the most popular tractors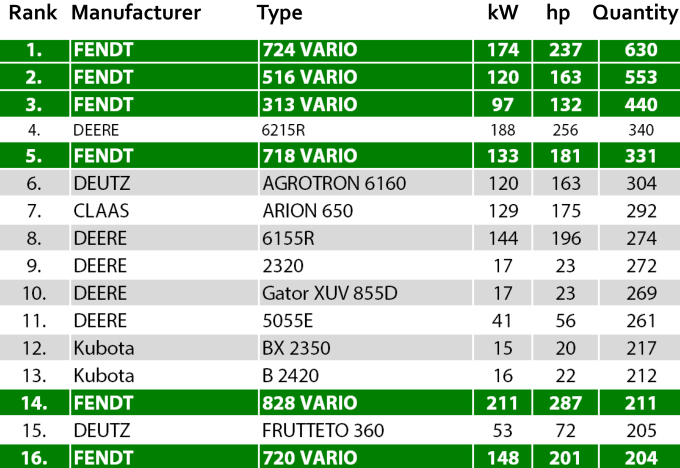 Just as in 2015, Fendt has succeeded in taking the first three places in the statistics from the German vehicle registration office. However, the ranking within the three first placed has changed.
In Germany, in 2016, a total of 28,746 tractors were registered. The number of registrations was lower than last year, with a drop of 10.8 per cent.