The best product – the best services.
When you buy a Fendt, you get a high-tech product that meets the highest demands. Consequently, you can also expect premium class services from the capable, certified Fendt dealers. Fendt Services offer you a comprehensive range of services, including regular certification of select dealerships with top know-how and premium workshop quality, driver training for improving driving economy or attractive financing and rental offers. This increases your profitability and operational security.
Your Fendt Dealer: Capable, certified and well-equipped: that keeps your fleet in shape and you mobile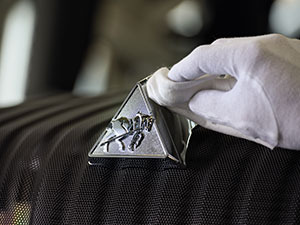 So that your Fendt remains 100% Fendt
Your Fendt dealer only installs original parts. They carry the assurance of series quality and are tested for functional reliability.
That pays off in many ways:
12 month warranty on original Fendt parts and their installation
the highest level of operational reliability
top resale value
Everything on board – everything under control!
Every certified dealer has a modern service vehicle, proven and optimised tools, service literature, as well as FENDIAS, the computer-aided analysis and diagnostics system. This allows mobile technicians to localise and fix errors quickly.
Professional workshop and quality of service
The certified dealers' workshop managers and mechanics are always up-to-date with the latest technology. Equipped with modern diagnostic systems, electronic parts catalogues and online order systems, they get your Fendt back into working order quickly.
AGCO Source – the knowledge platform
AGCO Source allows our dealers and service staff to share experience on technical questions quickly. As a Fendt customer, you profit from this continually growing and permanently available knowledge platform through fast technical help, prevention of unnecessary repeat repairs and shorter downtimes.
Fendt dealers: We keep your fleet in shape. Fast assistance in emergencies
During the harvesting season, your Fendt dealer is available around the clock seven days a week. In the event of a breakdown, a technician quickly comes to your site and repairs your machine as fast as possible.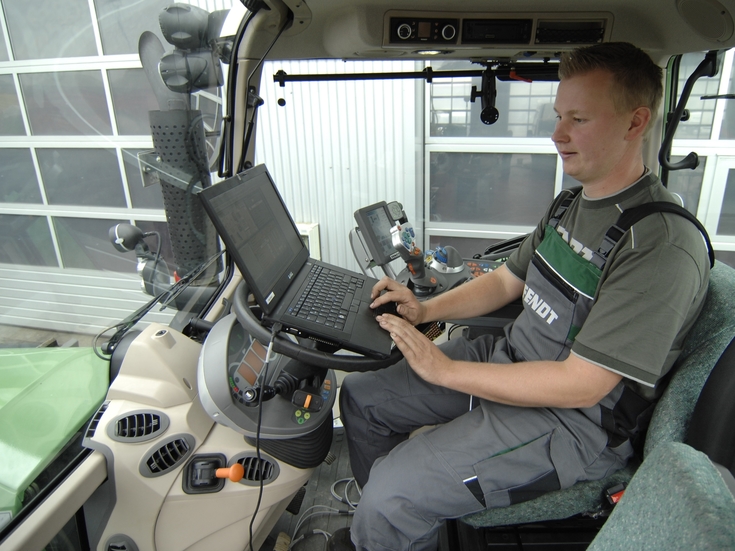 The transparent Fendt
Fast error diagnostics are the basis for fast repairs. Technicians use FENDIAS to gain access to the digital data inside your Fendt. Data is also collected and analysed, for example, those from the hydraulics or the transmission. All for the sake of continual operational reliability.
The transparent Fendt

Fast error diagnostics are the basis for fast repairs. Technicians use FENDIAS to gain access to the digital data inside your Fendt. Data is also collected and analysed, for example, those from the hydraulics or the transmission. All for the sake of continual operational reliability.

Fendt24 – because your time is precious

If your dealer does not have a replacement part in stock during the season and orders it by 6:00 pm, AGCO Parts will deliver it to your dealer by 8:00 the next morning. Fendt24 accepts orders around the clock. Your part is ready for shipping from the central parts warehouse within two hours.

Parts promise – machines under Fendt Care contract

The Fendt Care contract guarantees that if the part causing the problem is ordered by 6:00pm, it will be delivered to your dealer by 8:00 am the next morning. If this fails, a share of the costs for a replacement machine will be covered.

AGCO Parts Books – the online parts catalogue

AGCO Parts Books contains all the electronically available parts catalogues. Using the parts lists, you can identify all the available replacement parts and order them directly through your Fendt dealer. This way you save time and money by doing repairs and maintenance work yourself.
Fendt Care Service Agreement
Maintenance and Maintaining Value
With our Fendt Care services you can secure your operational readiness and retain the value of your Fendt machine in one. Choose the right premium for you at the time of purchase. Enjoy first-class services including repair and maintenance at attractive fixed prices.
The benefits
Maximum reliability

Genuine parts and materials

Regular servicing

Maximum value retention

Your onsite service partner is always on hand with Fendt genuine parts and materials in stock and regular service checks on your machine. Let us arrange service dates in advance, with hardly any interruption to your work. We can also carry out safety tests and full diagnostics. Giving you the freedom to plan and more time to do what you do best.
Fendt Care warranty extension
All-inclusive services with full control over costs
So that your machine is ready for work at all times, we can offer you tailored maintenance and repair services beyond statutory warranties. Fendt Care has flexible terms and flexible premiums to suit your needs, available with or without excess.
The benefits
Longest coverage for tractors in the industry

AGCO Genuine Parts are covered

Manufacturer-guaranteed

Increases flexibility and minimises risk

Full control over costs and planning reliability

Fendt Care Gold and Platinum exclusive to tractors are individually adapted to applications of up to 500 hours per annum and up to 8,000 total operating hours. With Fendt Care Platinum we will also replace your machine.
Fendt rental: Use instead of buy for more flexibility and liquidity.
If you have a short-term need for additional capacity or would like to use a tractor over a longer period of time without buying, your Fendt dealer can offer you an ideal solution through customised rental offers. That way your fleet always matches your current job situation.
The rental package for your tractor can be tailored to your needs. You have more liquid funds and you can easily calculate the costs per hour. If desired, we can take over all servicing work, complete insurance coverage and repairs*. A true care-free package, all without tying up capital.
* Repairs according to Fendt warranty policy; natural wear (e.g. tyres) and malicious damage are excluded.
Your benefits
More capacity

Always the latest technology

Higher liquidity instead of long-term capital lock-up

Calculation reliability through fixed hourly rates

Flexible run times (up to 3 years or 4,500 hrs)

Tax benefit: rental costs are business expenses

Our services
Regular servicing, e.g. oil and filter changes, as well as an overall check of all the vehicle functions

Repairs on the tractor* incl. original Fendt parts and materials as well as labour costs and maintenance work

Full vehicle insurance

* Repairs according to the Fendt Warranty Guidelines; natural wear (e.g. tyres) and malicious damage are excluded.
AGCO Parts Books
The AGCO Parts Books parts catalogue system is available starting immediately. Please contact your Fendt Dealership to get your personal login data.
AGCO Parts Books to Go
Identify replacement parts for your Fendt machine anywhere and anytime. This app gives you interactive access to our parts catalogue and exploded-view drawings. Hot points allow you to access spare parts information and parts numbers directly. The right part can be identified, selected and put in the shopping cart, easily and quickly, and then sent via e-mail. Books To Go allows you to:
easily identify spare parts for your Fendt machine
put together a selection of spare parts
send the selection of spare parts to an e-mail address of your choice
view previously downloaded spare parts lists while offline
use multiple-language menus
view spare parts lists wherever you are!
The app is available for your smartphone through the App Store or the Google Play Store. Please contact your Fendt dealer for your personal access data.