Fendt e100 Vario. Our drive for the future.
Farmers have lots of responsibilities. You enter into an obligation to protect nature and wildlife. Every day you face the challenge of handling resources even more efficiently, sustainably and carefully. With the unique technology of the Fendt e100 Vario, you protect the environment and wildlife by producing zero emissions. Thanks to the electric drive, the Fendt e100 Vario is ideal for working in enclosed spaces, as there are no exhaust fumes.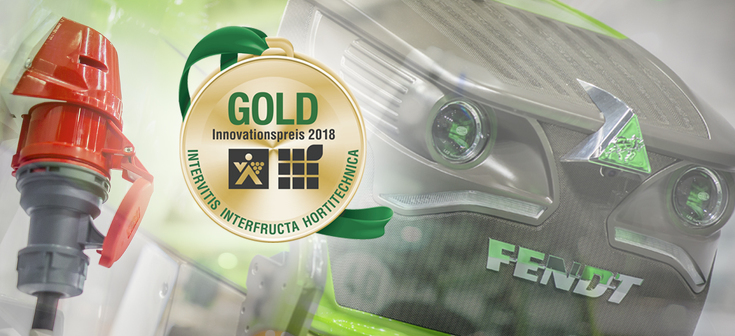 Fendt wins Gold at INTERVITIS INTERFRUCTA HORTITECHNICA 2018
As the doors of the fair opened on November 4, the German Winegrowers' Association in cooperation with the German Agricultural Society (DLG) recognised outstanding innovations and further developments, which have led to advances in the wine, fruit juice and specialist crops industry. An international, independent panel of judges announced the winners of the Gold and Silver Innovation Prize, presented by EU Commissioner, Günther Oettinger.

"The future is here today" wins silver.
Moving ahead, step by step.
The Fendt e100 is not just an idea, but a specific project designed to make sustainable improvements to your work in future. The conventional interfaces on this premium compact tractor allow all currently available implements to be driven, and the maximum torque to be transferred from the first revolution. And what's more: Electrified implements allow you to work really efficiently, as no loss of flow or losses due to mechanics occur. This future-oriented and economical tractor not only reduces energy costs, but also maintenance and service costs.
The synthesis of technology and nature.
How would you like to generate your own power for your tractors? What if you didn't have to worry about fluctuating fuel prices? With Fendt e100 Vario, this wish becomes reality. Farming is ideally suited to generating renewable energy. And with the e100, you don't use endless resources during production. Charge the e100 with electricity from biomass, solar power, hydroelectric or wind power, and enjoy the benefits of green efficiency like never before. Work sustainably in harmony with nature – the Fendt e100 Vario makes it possible
The Fendt e100 Vario allows the use of conventional as well as electrified implements. The electric tractor is fitted with two AEFcompliant power interfaces for electrical equipment. A short-term boost of up to 150 kW for the implements can be provided by the battery. A standard PTO connection is also available, as well as the normal hydraulic supply to implements. Therefore, the Fendt e100 Vario can be used with existing equipment with no additional caveats, but is also equipped to reap the benefits of using electrical implements.
Fendt e100 Vario features the easy and intuitive controls we know from Fendt Vario tractors.
The battery can be charged up to 80% within just 40 minutes.
Attachments are driven with the complete hydraulics or PTO, but can also be operated electrically at up to 150 kW at a time.
Front-mounted devices can also be driven hydraulically, electrically or by PTO.
The challenges faced by industry and municipalities to complete tasks efficiently and sustainably are many. The main task in future will be to reduce CO2 emissions. How do we continue protecting nature in our ever expanding urban sprawl? How can we do the necessary work in urban areas without producing emissions? With the Fendt e100 Vario, Fendt has a clear vision to meet the challenges of tomorrow. With its concept, Fendt offers the first practical, fully-electric compact tractor, which can perform any task in urban areas efficiently, sustainably and with an eye to the future, and which helps keep urban environments liveable for everyone in the future
Hand in hand with nature and technology.
The challenge of modern towns is to create a high-quality environment for residents: perfect green areas and tended paths and roads in the midst of intelligent urban architecture. With the fully-electric Fendt e100 Vario compact tractor, you can perform any green space maintenance, cleaning work or winter service, not only emissions-free, but also with virtually no noise. Thanks to its mechanical, hydraulic and electric interfaces, the Fendt e100 Vario is just as versatile as conventional tractors. All implements, which are used with the 200 Vario series with up to 100 HP, can also be used with the e100.
The solutions of tomorrow.
Because every season is high season for you, you need a tractor with which you can work easily at any time of the year. The environmental footprint is increasingly in focus. The Fendt e100 is an intelligent and sustainable solution which meets any challenge. The cost efficiency of the battery-powered tractor is increased by a completely new, energyefficient type of thermal management. A regulated, electrical heat pump performs the task of air conditioning the cab, battery and electronics. Energy management and tractor functions can be monitored conveniently via app. In addition, comfort functions, such as pre-heating in winter or air conditioning in summer, can be easily controlled in charge mode. Your work will not only be more sustainable, but more comfortable.
Image gallery Fendt e100 Vario