You dreamt it. We built it. The new Fendt 700 Vario Gen7.
Inspired by the needs and ideas of our customers and our claim to produce the best innovations and technologies, we have developed a tractor that leaves nothing to be desired - the Fendt 700 Vario Gen7.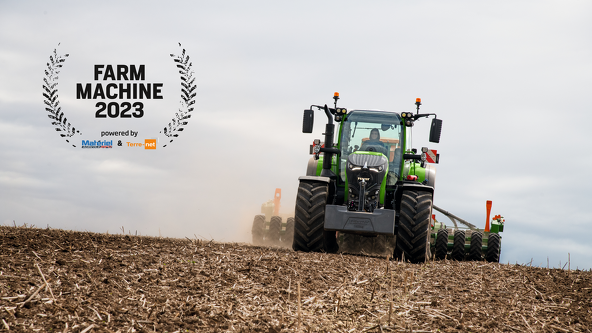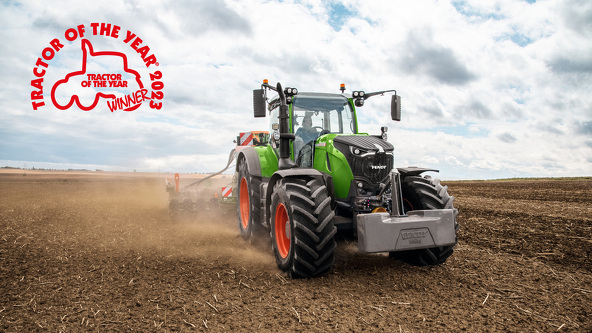 Farm Machine 2023 & Tractor of the Year 2023
Due to its intuitive operation with FendtONE, high performance with low fuel consumption and its versatile application, the Fendt 700 Vario was awarded "Farm Machine 2023" and "Tractor of the Year 2023".
Read more
Model overview
720 Vario Gen7
149 kW*
203 HP*
722 Vario Gen7
164 kW*
223 HP*

724 Vario Gen7
179 kW*
243 HP*

726 Vario Gen7
193 kW*
262 HP*

728 Vario Gen7
208 kW*
223 kW**
283 HP*
303 HP**

*Maximum power ECE R 120 / **Maximum power with DP ECE R 120
The new Fendt 700 Vario Gen7
We built it.
We have made your dreams a reality!
The new Fendt 700 Vario Gen7 is our answer to your wishes. Discover the highlights and get to know our new tractor interactively.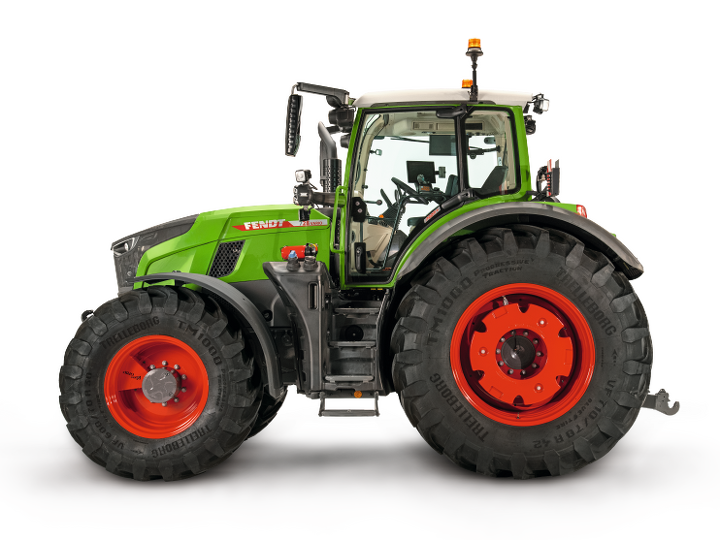 Special. Better. Fendt 700 Vario Gen7 Spotlights
Here you will find the special Fendt solutions, the so-called Fendt Spotlights, which make the difference and simply make your work better every day.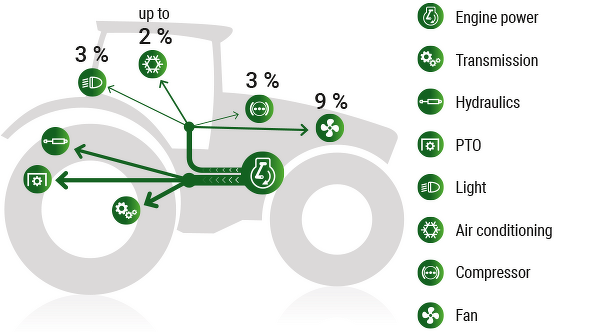 Added performance concept: Fendt DynamicPerformance
In the top model Fendt 728 Vario Gen7, an additional performance of up to 20 hp is available regardless of the driving speed. This offers the following advantages:
Lighter tractor with higher power
Less fuel consumption per ha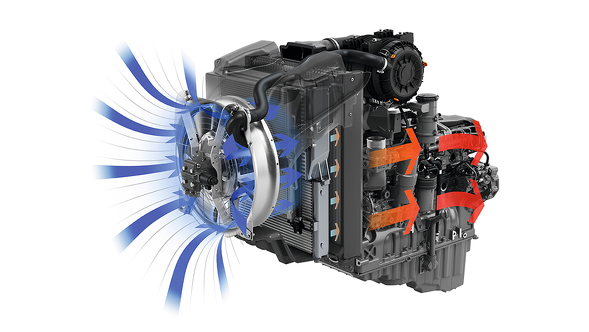 Cooling concept: Concentric Air System (CAS) with pressurised fan
The concentric, forced-air fan has an independent, hydrostatic drive. Its extremely small design allows a large steering angle and is thus responsible for the outstanding manoeuvrability of the Fendt 700 Vario Gen7. With up to 40% less drive power compared to a standard fan, it is also enormously efficient, saving fuel.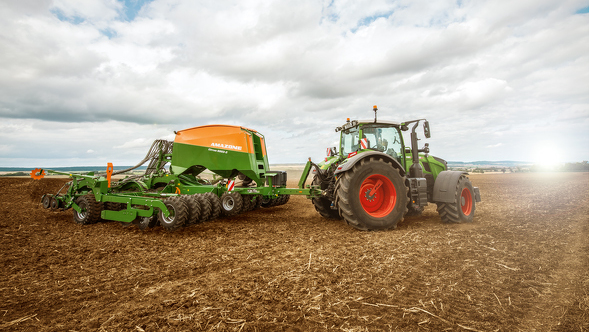 High-performance hydraulics
With the high-performance hydraulics, a considerable flow rate of up to 220 l/min is available. The modular coupling system gives you the choice between UDK, DUDK and flat-sealing FFC couplings in the front and rear.
Pure performance. For every application.
The Fendt 700 Vario Gen7 sets new standards in driving dynamics. The powerful engine with 221 kW / 303 hp maximum output results in a power-to-weight ratio of 30.5 kg/hp. If desired, the VarioDrive powertrain accelerates the Fendt 700 Vario up to 60 km/h. This allows you to effortlessly and fuel-efficiently master transport tasks that require agility, speed and high payloads.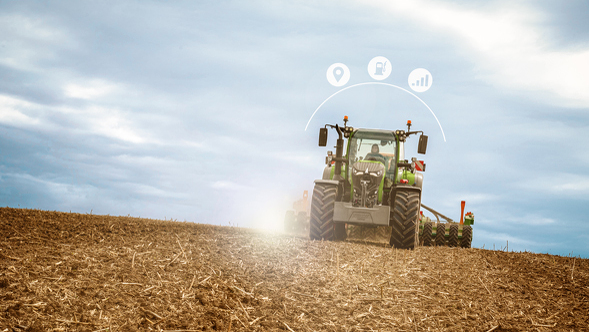 Smart Farming
Nowadays, agricultural machinery is much more than just steel and iron. Intelligent technology solutions ensure that the fleet can be used with the greatest possible efficiency.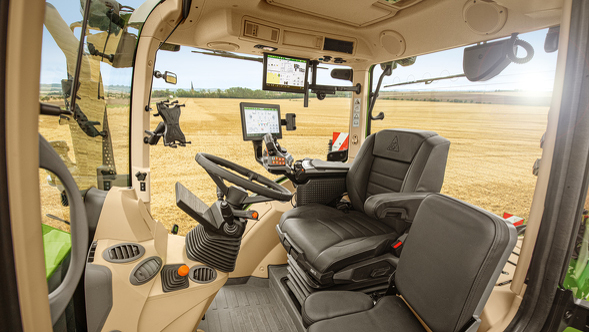 VisioPlus cabin
The spacious cabin comes with a continuous field of vision of 77° and numerous details, such as the large cooling and warm box, an additional windscreen wiper on the right side, a powerful air conditioning system and numerous storage compartments.
77°
continuous field of vision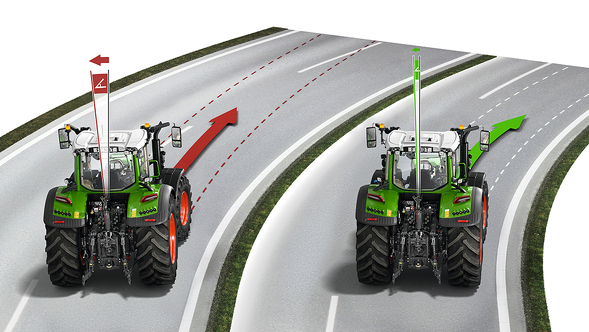 Fendt Stability Control
With smart assistance systems such as Fendt Stability Control, increased comfort and improved safety are guaranteed. The system automatically reduces side lean at driving speeds above 20 km/h and actively suppresses roll when cornering.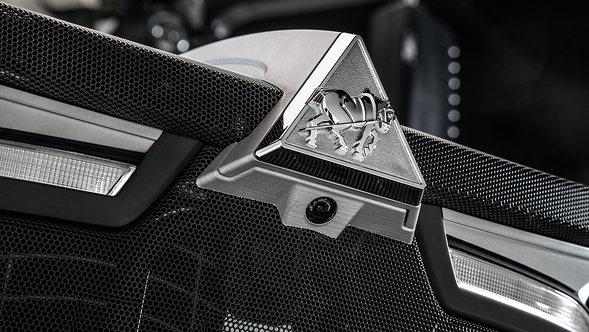 Digital bonnet and rear camera
With their high-resolution image quality, the bonnet and rear cameras ensure maximum safety and a good view of the front and rear attachment areas.
Technical data Fendt 700 Vario Gen7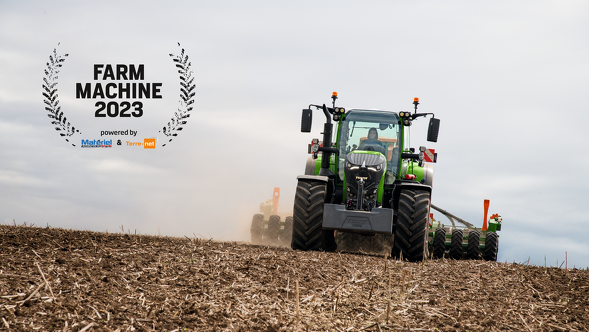 Farm Machine 2023
On November 6th, the new Fendt 700 Vario Gen7 received the "Farm Machine 2023" award in the "180 to 280 hp tractors" category at the SIMA international trade exhibition in Paris.

The jury recognized the completely new development of the Fendt 700 Vario Gen7 for its intuitive operation with FendtONE onboard and offboard, its high performance with low fuel consumption, as well as its versatile applications and numerous technical innovations.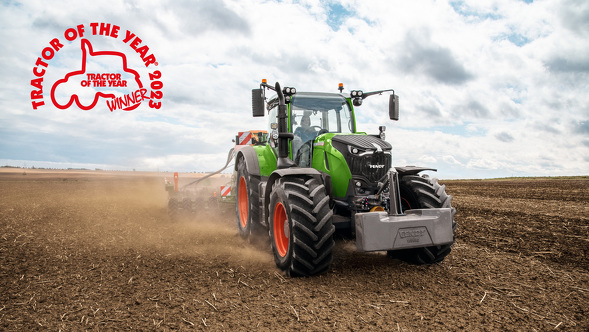 Tractor of the Year 2023
The powerful and maneuverable all-rounder with the completely newly developed Fendt VarioDrive driveline, its integrated VarioGrip tire pressure control system, the FendtONE operating philosophy and an output of up to 300 hp impressed the jury: On Wednesday, November 9, the jury of the awarded the Fendt 728 Vario as "Tractor of the Year 2023" at the EIMA in Bologna, Italy.

The "Tractor of the Year" award has been presented once a year since 1998. Since 2006, the award ceremony has alternated between EIMA and Agritechnica.
The way to your new Fendt 700 Vario Gen7