Excellent design makes your work easier.
Optimal cooling – fast maintenance
The cooler unit ensures reliable cooling of the engine, hydraulics and air-conditioning. The air intake screen on the cooler unit keeps the system clean – even in very dusty conditions. For easy cleaning, you just need to lift up the intake screen. The platform ensures you have safe access.
Intelligently placed
The few lubrication points can be accessed very easily for fast and easy maintenance. The engine air filter, tanks and filler necks for the various operating fluids are also ideally placed. Large side flaps offer easy access to the machine components for daily maintenance or quick monitoring.
Reliability and durability
Each component was designed for maximum durability and a long lifetime. In particular, the components that are in direct contact with the crop have been strengthened and are made of wear-resistant materials.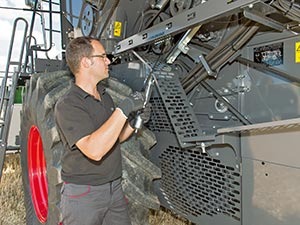 Lubrication manifold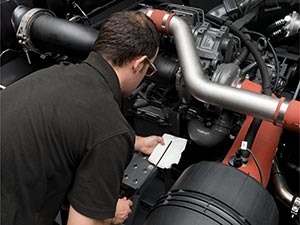 Check fill levels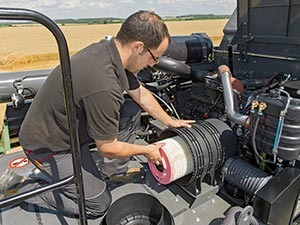 Clean air filter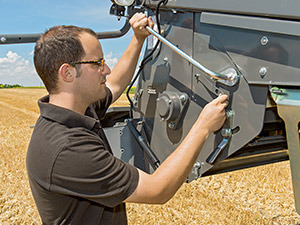 Chopper settings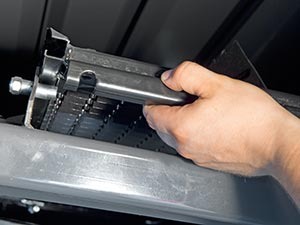 Remove the sieves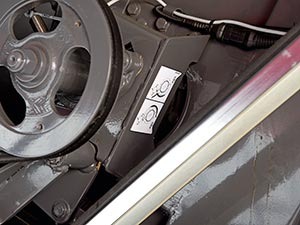 MCS Plus position indicator
Modern 6-cylinder
The L-Series is equipped with modern 6-cylinder engines from AGCO Power. With a 7.4-l cubic capacity, the common rail high pressure injection system and 4-valve technology, they deliver a maximum output of 260 hp (5255 L) and 306 hp (6275 L).
Non-stop on long stretches
The L-Series has enough fuel and AdBlue on board for long working days. The diesel tank holds 620 l, the AdBlue tank 80 l. Depending on the output level, the share of the consumption of AdBlue to diesel consumption is on average 7%.
Low on fuel and eco-friendly
To meet Emissions Stage V, Fendt has fitted the L-Series with a diesel oxidation catalyst, a diesel particulate filter and an SCR catalytic converter. Selective Catalytic Reduction (SCR) after-treats exhaust gases with a urea solution (AdBlue). This not only significantly reduces particulate matter and CO2 emissions, but also drastically reduces fuel consumption. The variety of fuel filters means the engine is well protected no matter how poor the fuel quality.
The next step to your Fendt L-Series