Optimal cooling – fast maintenance
The cooler unit consistently cools the engine, hydraulics and air-conditioning. The air intake screen on the cooler unit keeps the system clean – even in very dusty conditions. For easy cleaning, you just need to lift up the intake screen. The platform ensures you have safe access.
Intelligently placed
The few lubrication points can be accessed very easily for fast and easy maintenance. The engine air filter and the tanks and filler necks for the various operating fluids are also optimally placed. Large side flaps offer easy access to the machine components for daily maintenance or quick monitoring.
Track with 3.49 m outer width
Fendt offers the Fendt ATRAK system for harvesting conditions where crawler tracks are required. Maximum power transmission, automatic track tensioning and low soil compaction, especially in wet conditions, are just a few advantages of this system. The four sprung crawler tracks provide a large contact area to minimise pressure on the ground. Furthermore, the machine moves more smoothly at higher speeds thanks to the track, thus ensuring improved ride comfort and precise table guidance. Decisive, however, is the 3.49 m maximum outer width of the Fendt combine with 610 mm wide tracks.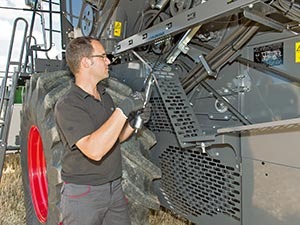 Lubrication manifold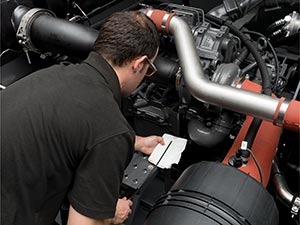 Check fill levels
Clean air filter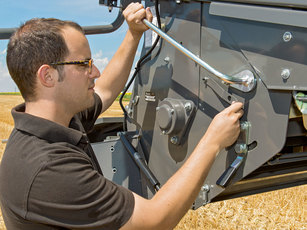 Chopper settings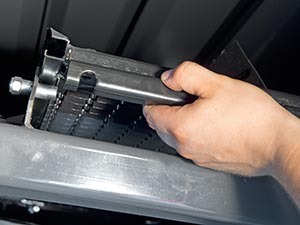 Remove the sieves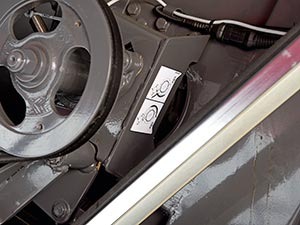 MCS Plus settings
The next step to your Fendt C-Series